Will the Real Cyber Monday Please Stand Up
Cyber Monday—a clever ploy by online retailers and marketers to increase sales or an actual high-volume sales phenomenon? Honestly, it's probably a little of both. Seeing as though the day was created in 2005 by Shop.org as a way to compete with Black Friday—the either most dreaded or most blessed shopping day of the year depending on your personal disposition and professional position—it is most definitely a marketing tactic. I would be naive to think that Shop.org did no research prior to announcing the special day. And I know for a fact that there is data to back up the increased sales figures. Therefore, it is certainly a high-volume sales day. For brevity's sake, let's just chalk this one up to a chicken-or-egg conundrum and move on to another issue.
Just what day exactly is the real Cyber Monday? Is it the Monday following Thanksgiving, when people return to work and begin their online shopping while they should be doing work? Or does it fall closer to Christmas Day? As we reported last year in "The Real Cyber Monday," our data shows that sales were highest on December 18th, the Monday only one week before Christmas Day.
The Atlas Institute's recent Holiday Online Shopping Report: 2006-2007 reveals that the true Cyber Monday 2006 fell on December 12th, two weeks prior to Christmas. The Atlas Institute believes that Cyber Monday is the result of last-minute shoppers' confidence in receiving shipped items on time. After Cyber Monday, online sales dropped significantly; however, online traffic and number of ads delivered remained high as shoppers researched items they planned to purchase offline.


While our report is based on a smaller scale, we believe it to be more intimate and revealing. Our findings were gleaned from client campaigns that we personally ran and data was compiled by proprietary PPC management technology. This data revealed that December 18th, contrary to the Atlas Institute's December 12th conclusion, was the real Cyber Monday. Even though shoppers resigned to higher shipping fees, they were more than confident that their orders would be delivered in time for Saint Nick's stealthy Yule time deposit.
The data we gathered came from retail sales that were the product of search engine marketing ads. This data also revealed—in line with the Atlas Institute's report—that Mondays and Tuesdays were the highest sales volume days during the entire 2006 Holiday online shopping season. The Atlas Institute went further to expose the early afternoon shopping trend; a sales spike was observed on these two days between noon and 4 p.m. Whether people were shopping at the office due to work avoidance, higher-speed Internet access or, as we speculated last year, to escape snooping family members, the phenomenon stands true and is sure to repeat itself again this year.
The Atlas Institute predicts that December 10th will be Cyber Monday 2007. Based on our Internet marketing reports from 2006, we'd like to wager that Monday, December 17th will be the top online shopping day. Either way, online retailers and marketers should already be well prepared for a rush of Internet sales from now up until nearly Christmas Day. And if trends continue to rise from previous years, the 2007 holiday online shopping season will far exceed that of 2006 in traffic amount, online sales and return on investment for marketing efforts.
The Atlas Institute suggests that online retailers and marketers take advantage of the high traffic volume and increased ad consumption even after their Cyber Monday comes and goes. As the graph below reveals, December 20, 2006 delivered the most ads of the entire holiday season. This means that people were still using the Internet as a resource for comparing and locating retail items.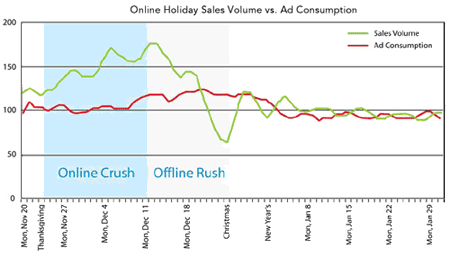 Because these individuals were heading to brick-and-mortar establishments rather than purchasing items online, the Atlas Institute suggests a strategy that we have been practicing for years—highlight your unique shopping services, such as "in-store pickup," "guaranteed shipping" or "hundreds of in-stock items" in your search marketing ads. Additionally, we plan to set day and time parting strategies to increase exposure of our clients' ads on Mondays and Tuesdays during the hours of noon and 4 p.m. We anticipate more competitive keywords bids, but the increased number and oft-frantic nature of searchers should not disappoint sales figures.
Stay tuned for an article after the holidays when we analyze actual data and reveal the true Cyber Monday 2007. I'm sure the anticipation rivals that of making a last-minute Cyber Monday 2006 purchase and patiently watching the driveway for a delivery truck.
Subscribe to our monthly email newsletter.